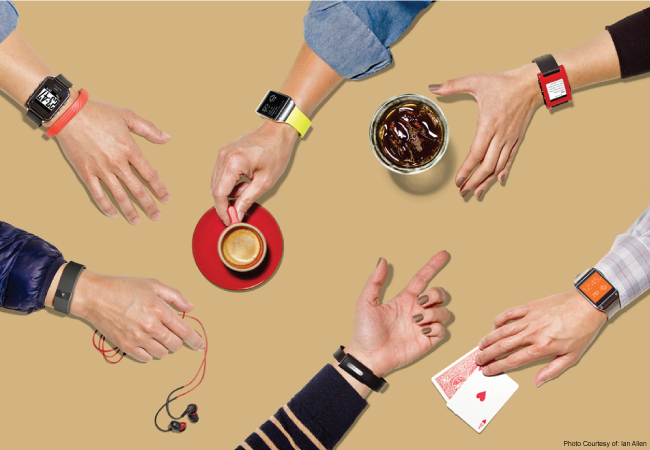 In 2015, expect to see more wearable technology on the market that combines safety, comfort, and style with the very latest advances in communication, monitoring health and fitness and general day-to-day living. This includes more efficient devices that are actually worn on your person, and apps that can be downloaded to those devices, to ensure you are getting everything for your personal requirements.
Apple Watch
Smartwatches display notifications from apps running on your phone; Android smartwatches are already available from Samsung, LG and Motorola, and the Apple Watch is expected to go on sale in spring 2015. Although the full capabilities are not yet known, the Apple Watch will have a heart rate sensor on the back, be able to count steps and how many floors you've climbed, dictate a text or ask a question via Siri (Apple's voice-activated assistant), and use GPS to give you walking directions. Apple Pay means that payment can be made in a shop by holding the watch near a contactless reader and double-clicking the button on the side of the watch.
Mobile apps in 2015
Apps in 2015 will go beyond ensuring you are always up to speed with the latest news and information on your sport of choice, or counting the distance covered when training. Google Fit, compatible with Android Wear devices, enables you to set goals for over 100 activities, keep an eye on your progress throughout the day, control your goals from your watch, and receive recommendations based on your performance. By connecting third party devices and apps, all of your fitness data will be in one place. Worry Free Labs is a mobile app development firm, specializing in helping enterprises and startups with mobile app development, from design through to the process of building the applications; they help their clients to top the App Download charts.
Other wearable tech that you can expect to see more of in 2015 includes the following impressive gadgets:
Microsoft Band for iPhone, Android and Windows Phone – a wrist-mounted health and fitness tracker that tracks heart rate, steps, calorie burn, and sleep quality; you can view the routes you have covered while training on a GPS map and get a read of the UV index for that day.
Zepp Golf – a sensor is worn on your glove, and your smartphone will analyze your swing via an app and provide feedback.
Puls smart cuff – an Android-based operating system that claims to be a computer and phone combined. Worn on your wrist, it brings together music technology and fashion, and it has a SIM, so it can make and receive calls.
Skully motorcycle helmet – a lightweight, aerodynamic helmet combining safety, comfort and the latest technology via Bluetooth connectivity to your smartphone. It features a wide-angle rearview camera, integrated GPS navigation, and information is displayed in your line of sight.
Wearable technology is becoming increasingly stylish; as more experts and designers contribute to their development, devices and apps become progressively more sophisticated. Watch out for devices that track ECG patterns; more sophisticated virtual reality gaming equipment; Ringly, a ring with the features of a smartwatch; and fitness trackers that can pick up on perspiration and hydration. These are exciting times, and wearable tech is set to develop even further.