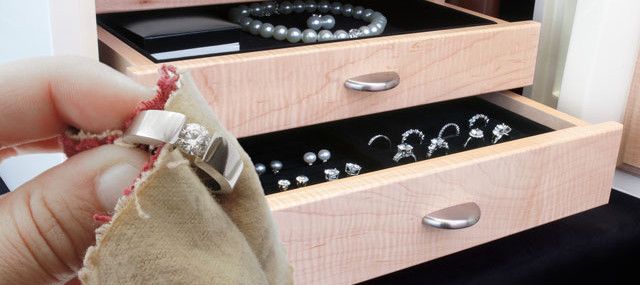 Silver jewellery is beautiful and it has a charming, elegant and classy look. However, after a while your silver can start to look dull and tarnished as it is exposed to the air and light – it's a reaction that occurs over time in the metal. All real silver jewellery will eventually tarnish in some form, from rings to necklaces to stackable charm bracelets and many other different types. There are a few ways that you can prevent tarnish from forming and remove it when it does form, so that you can keep your silver jewellery looking gorgeous.
Tarnish is simply a layer of corrosion that naturally forms on metals when they undergo a chemical reaction with other compounds, especially sulphur dioxide and oxygen. Here are some tips for keeping your silver jewellery tarnish free:
Anti-Tarnish Tips for Silver Jewellery
You can clean and polish all of your silver jewellery on a regular basis with a soft cloth so that you can keep it looking beautiful and prevent the build-up of lotion and body oil.
Your jewellery will tarnish more quickly if you leave it out in the open and expose it to oxygen, so avoid this by storing it in a closed container that is acid-free.
You should not store your jewellery in direct heat or sunlight or it might fade in colour. Try to keep it in a protective box, or wrap it in a soft cloth and store it somewhere cool and away from direct sunlight.
Never wear your jewellery when you are swimming, as the chlorine in the water can cause tarnishing.
You should also take your jewellery off when you are cleaning the house, as the chemicals in the cleaning products will tarnish the metal as well.
Avoid using paper towels or tissues to dry the jewellery, as these contain fibres which will scratch the surface of the silver.
In fact, there are jewellery cases that you can buy that are lined with a tarnish free material, so that you can keep your silver in great condition. You might also want to consider wrapping your silver jewellery in anti-tarnish cloth.
If you do store your jewellery in anti-tarnish cloth, make sure that change them every two or three months.
It is also a good idea to try storing your jewellery with those silica gel packs, which help to absorb moisture from the air.
Avoid exposing your silver jewellery to chemicals such as alcohol, sea salt, fruit acid, chlorine and vinegar as these are corrosive and will damage the silver.
Always apply your cosmetics, locations, perfume and hairspray before you put on your jewellery so that the chemicals will not tarnish the silver.
You should always remove your silver jewellery when you are exercising, gardening, cleaning or showering so that you can avoid damaging the metal.
Cleaning Your Tarnished Silver Jewellery Items
The tips above will help to keep your silver jewellery from being tarnished, but eventually all silver will start to tarnish over time. It's not the end of the world, all you need to do is clean it. If your silver jewellery items become tarnished, you can clean them by yourself by washing them in warm water with mild phosphate free soap. Then, rinse them and dry them thoroughly with a soft cotton cloth.
It is also a good idea to have your silver jewellery cleaned once per year using an ultrasonic jewellery cleaner. It is a bit of an expense, but it will keep your jewellery looking beautiful for a very long time. However, make sure that you don't clean any silver jewellery that is studded with gemstones, as the chemicals that are used in the ultrasonic cleaner can damage the gemstone. If you aren't sure how to clean a particular piece of jewellery, you can always ask your professional jeweller for advice.
With the right care, your jewellery will last you for many years and will provide you with a lot of joy and happiness. When you have a piece of beautiful ChloBo Celebrity Jewellery it is important to look after it and keep it in good condition, so that you can enjoy its lovely charm for as long as possible.