Are you ready to get down on one knee and pop the question, but aren't sure how to make your proposal special? Finding the perfect way to say those four little words, "Will you marry me?", can be a real challenge.
Even if you are the kind of guy who is romantic every day, asking your partner to marry you is something that you want to be extra special. But how can you make your proposal more romantic than anything else you have ever done?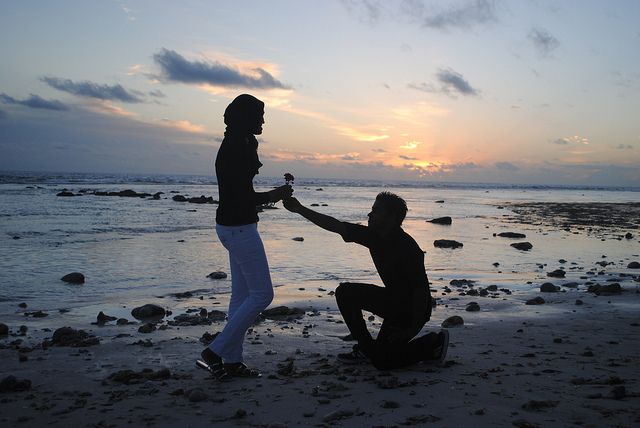 You probably think that your proposal has to be big – something she won't ever forget. Your proposal should also be linked to your relationship in some cute, little way. Wow, that's a lot of pressure you are under, isn't it?
But there is no need to worry because we have put together this simple guide to help you plan the best proposal ever.
Choose a meaningful location
Think about all the places the two of you have visited together and choose the one that is the most meaningful. It could be where you had your first date, the place you shared your first kiss or the spot where you first said, 'I love you.'
If you none of these locations are suitable, think about places you have been to and loved. Where have you and your partner been that she absolutely loved?
Pick the perfect ring
A big part of the proposal is the ring. Once you have made the decision to propose, the first thing you need to do is pick a ring. Choosing an engagement ring can be tricky, especially, if you aren't sure about the style of ring she would like.
If you are a little stuck for ideas about the perfect ring, it might be a good idea to get your partner's mother or sister involved. Instead of choosing a ring off the shelf, why not make it more personal by looking at custom engagement rings?
Choosing a custom ring will allow you to design your significant other the perfect engagement ring. You can choose everything about the ring, from the shape and size of it, to the metal and style.
Think about the details
Once you have chosen the location where you want to propose and have a ring sorted, the final thing you need to think about is the details. Ask yourself what little things you could do to make the proposal even more special.
Think about how you are planning to propose – in a champagne glass at dinner, surrounded by candles in the park, on the beach at sunset? Think about how you plan on proposing, and at what kind of time you plan on proposing.
Ask yourself how you will make the proposal more romantic. Flowers, candles, rose petals, and mood music, are all ideal ways to set the mood. Perhaps you could surround yourself with candles in a hotel room and propose as your partner walks through the door? Maybe you could organize a special candle lit dinner with mood music playing?
Proposing to your partner is probably going to be one of the scariest moments of your life, but also one of the most amazing. Planning the perfect proposal can be a challenge, but as long as you follow these simple tips, you should be just fine.
Remember, the key to a successful proposal is linking it to your relationship in some way. You can do this with the location, mood music, ring, or wording.