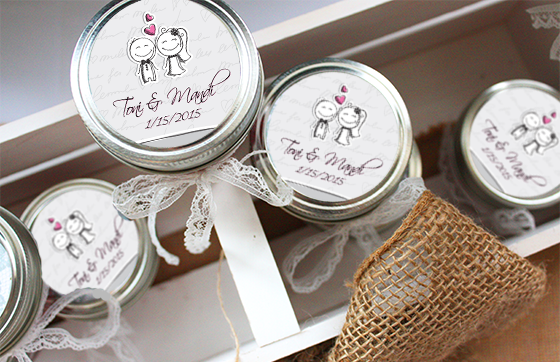 Wedding favors are a great way to express your thanks to friends and family who are by your side on an important occasion of your life. A thoughtful parting gift makes your guests feel welcome and lets them know that you actually spent time and energy looking for the perfect wedding favor.
If your wedding is round the corner or you've been entrusted the task of arranging the perfect favors for a friend's upcoming wedding, here are eight gifting ideas that will help you pick something your guests will actually use.
Personalized throws
If you're getting married in winter, a throw or a small fleece blanket with a fun pattern, personalized with a cute little motif or a message from the newlyweds, can be a wonderful parting gift for your wedding guests. Choose colors that go with your wedding theme and pick a fabric that's lush, soft and lint-proof, so that each time a loved one snuggles up, they will think of you with love.
Mini towels with a personal message or quote
If DYing, purchase high-quality tea or face towels and wrap them up in beautiful paper. If personalization is your thing, have a wedding gift company personalize the towels with a quotation or personal message for your guests. Better still, add a touch of artistry to your favors by getting a professional artist to paint or embroider the towels with a beautiful motif or quote.
Decorative towels make for a wonderful wedding favor that your guests would not want to stash away or pass on to someone else.
Seeds or miniature plants
Go green on your wedding and pass on the message to your invitees with a bag full of different kinds of garden seeds or a pretty little potted succulent that will remind them of you and your special day and make them think of you with love.
This idea is especially great for couples that love green living and want to share the message with people close to them. If having an outdoor wedding at a farm or garden, send your guests home with beautifully packed seasonal seeds or a lovely indoor plant that's easy to grow and care for.
Miniature Champagne, Wine or Whiskey
These bottles make for cute little wedding favors your attendees will love to take home and use. A mini champagne or wine bottle will be easy on your budget while single malt will make for a perfect luxury gift. Use a personalized designer label or tag for a personal touch.
Artisanal Soaps
Yet another great wedding favor idea far better than the usual, run-of-the-mill sweet almonds or chocolate boxes. Handmade designer soaps are a beautiful gift for any occasion, more so for an outdoor or summer wedding.
Rather than going for a big brand, contact a local home-based or small business that makes personal care products using natural ingredients and no chemicals.
Cocktail Cupcakes
If you love cupcakes, it most certainly would have crossed your mind to somehow include them in your wedding. While you may treat your guests to a big designer wedding cake, you can still indulge your love for cupcakes by giving them as parting gifts.
With so many flavors to choose from, finding the right cupcake for a special occasion such as a wedding can be hard work. If you don't want the usual stuff, go for margarita or whiskey cupcakes, or have your bakery design one around your favorite cocktails.
Alcohol-infused cupcakes in elegant liners make for a great wedding favor.  Check out more wedding cupcake ideas at https://sunflourbakingcompany.com/wedding-cupcakes/.
A local handicraft
This wedding favor will keep your guests talking about your wedding long after they've gone home and you've left for your honeymoon. Delight your attendees with a local handmade artistic decorative or personal-use gift.
For instance, if you're getting married on a tropical island, research the local handicrafts and look for an artisan or entrepreneur who can make a batch in your budget. If getting married on another continent altogether, source a locally made nonperishable specially product and gift it your guests as a souvenir.
Mini cocktail boxes
A couple that enjoys parting might want to pass on the same vibe to their guests. Cocktail kits placed in lovely little baskets or cardboard boxes with a ribbon on top serve as a fun and memorable parting gift that your friends and family will be compelled to use.
Personalize the favor by picking spirits and flavors that are popular locally or are your own personal favorites.