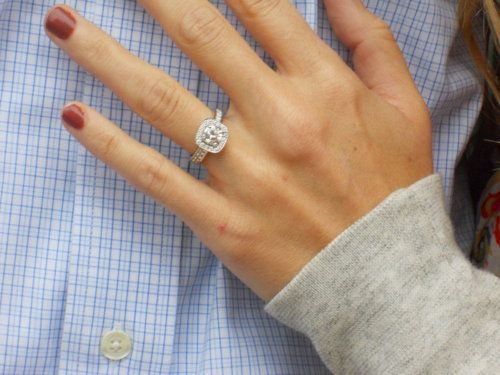 If you're hoping to get engaged soon, you may be going through a lot of soul-searching. You want to be certain the one you're with is the one you're supposed to be with. Despite popular myths, you can't always 'just know'. Sometimes you need the time to think about what life might be like with this person in the long term.
It's not just bad habits and those little annoyances that can make you wonder if marriage is right for a particular person. Everyone has them, including us. Over time, we all develop a few more! Knowing a person is the right lifetime mate is more about knowing ourselves. Can we be completely relaxed and comfortable around them? Perhaps more importantly, we should ask if he is completely relaxed and comfortable around us.
It doesn't have to be easy to be around them, but it shouldn't be hard. It takes years of living with someone to be in perfect synch, so you don't have to be there before he's even popped the question. Instead, you should be in a place where you can picture it and feel that it would be right.
If you have spoken with each other about the prospect of getting married, then you already know how he feels. Perhaps you have even been browsing for engagement rings together. This is a good thing to do to test your feelings about such a serious commitment. It buys you just the time you need to consider what you'll say.
You know you want to be able to say a heartfelt and resounding 'yes' when he finally gets down on one knee. You also know it's a huge decision to make. Time helps us contemplate serious matters seriously, so make the time to think and confirm you're ready to proceed.
Once you know you are ready to say yes, you may be bubbling over with excitement about how he's going to pop the question. Will it be a romantic dinner date or a midnight stroll to your favorite place? Perhaps he'll do it at the family Christmas meal? The important thing is to remember he is probably really nervous, so try to make it easy for him.
If your fella is a romantic soul, he may have a huge speech about how much he loves you prepared. Let him get through it, even if you can't wait to see the ring. Try not to show you are disappointed if that happens. He's doing what he can! You'll have the rest of your lives for perfection.
When the ring is presented, let him pop it on your finger. You may be squealing with delight at this point, and everybody will be delighted for you. Of course, you will have to show off the ring, and visit all the parents in the very near future. But right now, you can just enjoy the moment in each other's company.
However romantic or however sudden the proposal is, don't be afraid to say you need more time to think about it. It is a big decision, and you owe it to him to be certain about the life you will have together. Happy engagement!