If you've started planning your big day, I'm sure you've got a checklist a mile long to get through! From caterers to venues to flowers, the list is never-ending. There is one thing, however, that I suggest you make plenty of time for. That's the wedding ring purchase. Unlike all the other arrangements, the wedding ring isn't just for one day. It's forever. It's a big decision, and not something you should rush.
At first glance, it seems easy. After all, a simple wedding band shouldn't be too tricky to find, right? Try telling that to any recent bride or groom! It's not always easy to find the perfect wedding ring, especially if you have a unique style in mind. Here's my quick checklist for finding the perfect wedding band.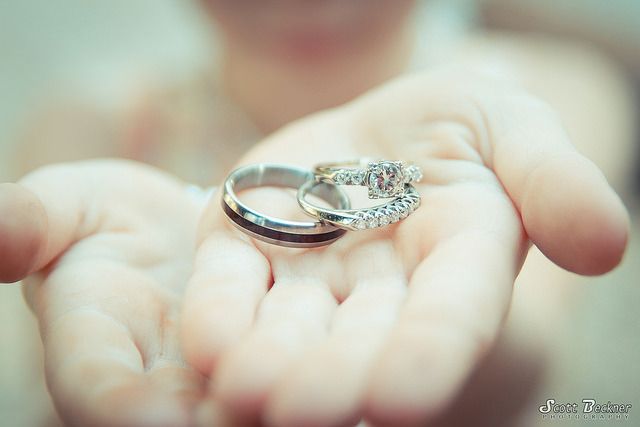 photo source
Identify a style
Before you start trawling through the jewellery stores in town, take a long, hard think about what style you want. There are lots of different options out there, and it's always best to narrow it down. It's also important when it comes to men's rings, as there are now so many styles. Just take a look at Titanium-Jewelry.com, and see for yourself. Girls, you'll often want something more delicate and stylish. Pick a style first, so you know what to look for.
Start early
Any married couple will tell you that the planning stages of a wedding fly by. You might think you've got months to get it sorted, but it will soon be upon you! As with most wedding plans, it's usually best to start early. Remember, rings aren't always easy to find. When you do stumble across the perfect ring, you might want to have it engraved. It may also need to be resized or go through bespoke alterations. These take time, so make sure you give yourself plenty.
Budget
Organising a wedding requires a strict budget (usually!) Every small thing is accounted for, and every expense is scrutinised. It's so easy to add little costs to each aspect of the wedding. As soon as you start doing this, you'll quickly find yourself over-budget by thousands! Set yourself a budget for rings, and stay under that cost wherever possible.
Think long-term and practical
Remember, a wedding ring is for life. By all means, you can choose a quirky and original style. But, just think about that choice 50 years in the future! With that in mind, try to avoid the latest trends or styles, and stick to something classic. You should also think about your lifestyle and daily life. Is the ring comfortable enough to wear all day every day? How will your job affect your everyday use of the ring?
Get the sizing right
Last of all, take your time at the jewellers to get the sizing perfect. With most wedding rings, they will alter it to the millimeter. Try on a variety of sizes, and test them all for comfort and fit. Make the decision you are most comfortable with.
Follow this advice, and you'll exchange your perfect rings with each other on the big day. Congratulations!