People will judge your home before they've even stepped through the door. Improving your home's curb appeal is all about creating a good first impression. Whether you want to impress guests or potential homebuyers, the following improvements to the front of your home are certain to make an impact.
A dramatic door
Having a front door that stands out is essential for catching people's attention. Consider painting your existing door in a bold colour that contrasts the rest of your house. Red, blue and green are some dramatic colours that are certain to catch people's eye. Alternatively, you may want to buy yourself a brand new door. On top of choosing something colourful, you might be able to find yourself an eye-catching design. For example, window cut-outs can often boost the appearance of a front door, whilst some doors may also have decorative knockers that offer a sense of luxury.
If you've got a garage, you may similarly want to consider the appearance of your garage door. Worn and dilapidated garage doors won't do anything for your curb appeal. Companies like Best Doors have a range of stylish garage doors to choose from. There are lots of different opening mechanisms, each with their own advantages. Traditional swing-open garage doors are cheaper to install but require a fair amount of clearance space. Roller doors meanwhile require no clearance space, but are more expensive. There are also lots of different materials to consider that also come with their pros and cons. Wood is a rustic material that can provide good insulation, but it is less secure than the likes aluminium.
Off-road parking
Having a driveway or a garage can also give your property the wow factor. Being able to offer off-road parking is very much a privilege to those living in the right area – those in urban areas are unlikely to be able to offer this. However, it's possible that some people may have a front lawn that they don't use. Converting this space into a driveway could be advantageous and could boost the value of your home significantly.
There are lots of different types of driveway to consider. Gravel driveways are some of the simplest to build. These need to be regularly raked and deweeded to keep them looking elegant. Paved driveways require a little more work to build, but may also require less upkeep. If the job has been done well, weeds shouldn't grow in between the cracks. You may still have to jet-wash the driveway occasionally though to keep it looking as presentable, as paving may become stained over time.
Flower power
Decorating the front of your home with flowers can also make an impact. Flowers immediately bring a burst of colour and a sense of life. If you don't have a front garden, you can still find ways to add flowers to the front of your home. You could place hanging baskets either side of your front door. Alternatively, you could place potted plants on the ground either side of your door. Meanwhile, window baskets can be used to decorate your windows.
You could even buy creeper plants to grow up the side of your wall. A virginia creeper is a popular creeping plant that is fast-growing, known for turning red in autumn. Jasmine meanwhile is a bright white creeping flower that can also brighten up the front of your home, although it does need to be cut back regularly making unsuitable for those wanting a low maintenance option.
Bright ideas
Keeping the outside of your property illuminated in the evenings could also improve it's curb appeal. There are lots of lighting options to select from, depending on the style of your property.
Solar lights are one of the most economical options and can be placed anywhere. They can look great either side of a garden path or on the entrance to a driveway, offering an ambient glow. There are all kinds of styles of solar lighting including traditional lanterns and more modern arty designs.
For something with a little more brightness, you could consider a wall mounted light that's powered by the mains. Motion sensing lights are good for preserving power, only lighting up when someone is outside.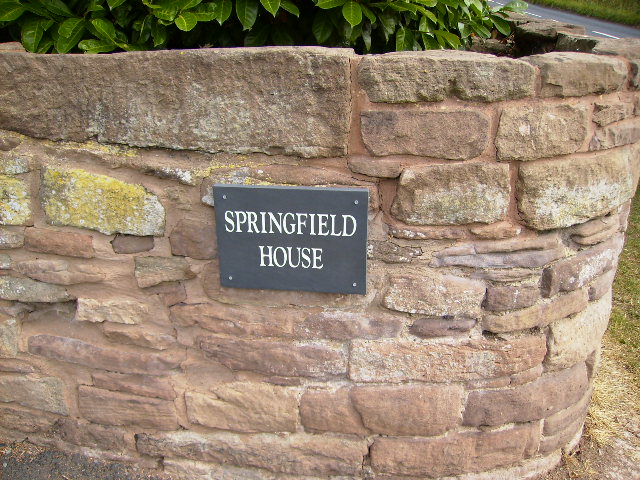 A name badge
Ever wanted to name your home? Naming a property can add a lot to its value. You can name it whatever you like, but ideally should choose something that makes your property sound alluring. Once you've given your property a name you should create a sign and put it outside either on the entrance to your driveway or on the wall next to your house number. Companies like The Sign Maker specialise in such signage.
First class mail
A mailbox can also add dollars to the value of your home. Companies like Simply Postboxes have a wide range of mailboxes to choose from including wall-mounted mailboxes and mailboxes on stands. You can even build your own mailbox and give it a personal touch.
Window dressing
You should also consider what your windows look like. Old timber frames could make your home look worn and dilapidated. Consider buying some new window frames if you feel these are letting the front of your home down. UPVC window frames are ideal for modern properties – they have a good resistance to moisture and provide good insulation too. Wooden and aluminium frames may be better for older properties – these types of frames are cheaper and still very resilient.
As for your windows themselves, make sure that these are clean. Most people won't be able to tell what glass you've got from the outside, although double-glazing is certain to add value to your home.
Robust roofing
Upgrading your roofing could also boost your curb appeal. This could be worthwhile if you've got missing tiles, or if your current tiles are looking grubby.
Certain types of tiles can make a bigger impression. Shingles for example can have a significant impact (although these certain aren't the most robust of roofing solutions). You could also consider options such as cold roofing if you live in a hot climate – this special roofing is able to reflect heat and has a sparkly white appearance that it certain to catch people's attention.
Various roof features could also help to make your property stand out. Dormer windows can be a great feature to make your roof stand out. Solar panels are also likely to attract the attention of buyers, as they immediately suggest that your property could save them money on their energy bills.