Looking good while on holiday isn't something that most Brits manage when they're abroad. Those Union Jack swim shorts don't look great with sunburnt skin and a beer belly, and even when evening comes, there's too many Reebok Classics on show for my liking. Each to their own, I guess.
But what if you want to look sharp on your hols? Because you are on a relaxing breakaway, you don't want to be spending an hour getting ready in the morning. But, there's no excuse for a socks and sandals combo, or hiking boots – unless you are climbing serious terrain. These tips should help you work out what to wear, how to pack, and how to look the part for the entirety of your trip.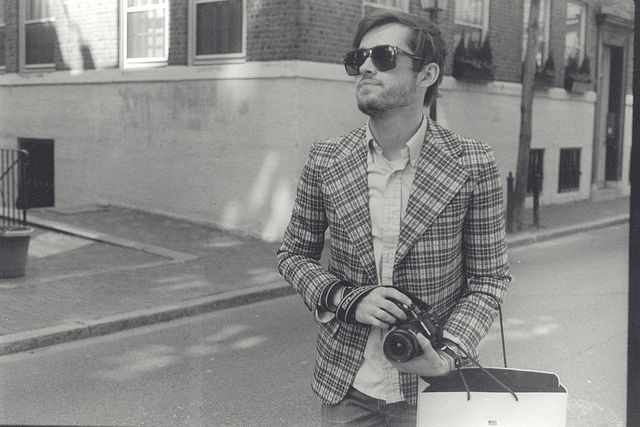 Prep
Start planning what to wear on your trip a year in advance. You might laugh, but I'm completely serious. Yes, it sounds a long time, but you can take advantage of this year's summer sales from the likes of Mr. Porter, and grab some real bargains. Put them away unworn, and voila! When it comes to packing you have a ready made wardrobe, already shop-folded and ready to place in your suitcase. Try to stick to the classic summer gear, rather than anything too trendy, and stick to the basics where possible.
Packing
Choose lighter materials and you will manage to get more into your suitcase. Take a few pairs of shorts, swimmers, and sandals, with flip flops, if you absolutely must. They are good for the pool areas and the beach, if nothing else. T-shirts are a must, and throw in a few Henleys for evening wear. A light raincoat will see you through the worst weather, and a few trips to a water park or aquarium if that's what grabs you. It's also worth bringing a pair of jeans, a heavy shirt, and a woolen jumper – you never know when you could hit a cold patch.
Bring Some Olds
You should also bring some old or inexpensive clothes for messing around in – especially if you have kids. Your OL top, Watanabe jeans, and Visvim sneaks might look the part in the bar of an evening. But, a typical family activity day out with the nippers is more suited to some affordable – but still acceptable – gear from Uniqlo. Try your local charity shop, too. A top tip here is to head to your nearest wealthy town – you'll find a lot more gold and far less high street.
Sunnies
One thing a lot of folks get wrong is their sunglasses. You can spend a long time choosing what to pack for your holiday, then end up buying a shoddy pair that don't suit you because they are the only ones that fit in the airport shops. Plan ahead and make sure they finish off your outfit, rather than spoil it completely. Glasses Direct have a great guide on how to choose glasses, which can be used for sunnies as well.
Get A Man Bag
There was a time around ten years ago when every dapper gent carried a man bag. I even know people who carried them around empty. Although those days seem to have gone, they are invaluable on holiday. A good, sturdy bag is harder to snatch and easier to keep secure. You'll have a lot of documents on you at any point time, and losing them is going to cause too much trouble to risk.
OK, that's your lot for now. Happy packing and have a great trip!