From the futuristic Mohawk braid to more natural, old-world styles, interesting braided hair remains popular on runways around the world. While these daring hairstyles are fun ways to stay fashion-forward, they are not the only ways to incorporate braids into a polished look. Simultaneously trendy and classic, braided accessories are a great way to instantly add texture and style to any outfit.
 Braided Headband
 Elaborate braided hairstyles often require long, thick, luscious locks. Luckily, people with shorter, thinner hair need not skip this intriguing new trend. Headbands adorned with pre-formed braids come in a variety of hair colors, thicknesses, and braid styles and can be made with real or synthetic hair. Best of all, they slip right on! Anyone looking for a way to immediately elevate a style should consider incorporating this convenient accessory into their fashion arsenal. Consider purchasing multiple headbands in different colors for a striking, modern look.
 Braided shoes
 Any fashion forward person knows never to neglect their feet. Footwear completes a look and can say a lot about someone's personality. Shoes can also be a great way to incorporate braids into a wardrobe. Sandals with braided straps have a classic appeal, but they are by no means the only braided shoes available today. Look for pumps or wedges with braided details on the heel or flats with a braided design on the toe. Loafers constructed entirely from braided leather make a bold statement heavy on texture that can add visual interest to an otherwise sleek ensemble.
 Braided bracelet
 Material is key when it comes to braided bracelets. Thicker leather braids add an earthy hint to an outfit, while delicate metal braids will catch light and sparkle for a date night or more formal affair. Colorful fabric or even plastics can infuse playful pops of color into a wardrobe. Thicker, chunky braids make a statement, while smaller braids will pair well with almost any style.
Braided belt
 Just as the braid is a hairstyle in no danger of losing its appeal, the braided belt is utterly timeless. Sport a classic black or brown leather braided belt with your favorite dress or pair of pants for a classic, polished look. Or, choose belts made from metallic fabric for an eye-catching addition to any outfit. Some braided belts are even made from stretchy material that ensures a snug fit and accentuates the waist.
 Braided scarf
Scarves are no longer only for keeping necks warm in the winter. These versatile accessories can be worn any time of year and are an easy way to complete an outfit. Scarves made from knitted fabric and fashioned into one long chunky braid are a dynamic way to showcase this trend. Lighter scarves with one or more smaller braided strands add more subtle texture and elevate a look above more mainstream solid scarves.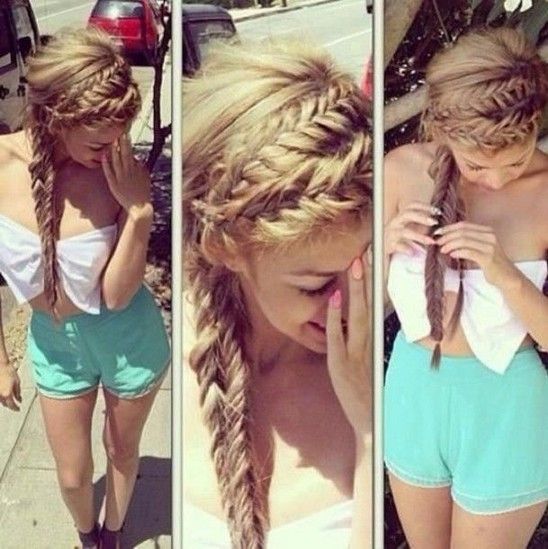 Braided hair accessories can make bold statements or subtle hints. They can shift from classic to cutting edge and from earthy to elegant. These versatile pieces embrace a timeless design in both new and traditional ways and can complement a variety of styles and personalities. From belts to scarves and from headbands to shoes, braids are not just for pigtails any longer.