April 25, 2017
Your personality is something you express in different ways. Your work wardrobe may show the side of you that is professional, sharp and uniform. Your casual wardrobe will reflect your laid-back side. The way you decorate and furnish your home is no exception here, as we stamp our personality in every room, every colour and every accessory we use.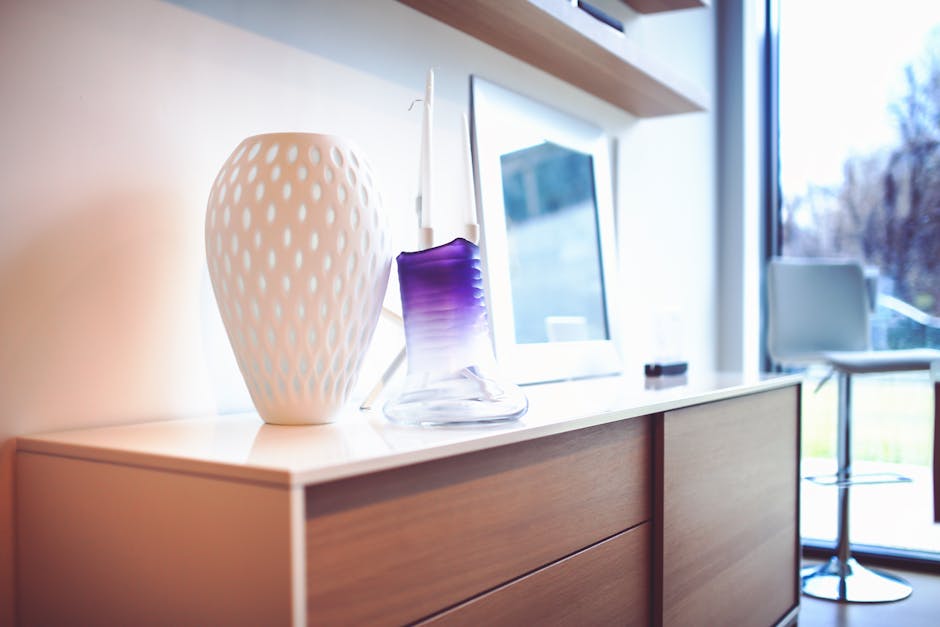 Your living room is your social zone in your house. It's the place you entertain your visitors and your family. It's the place you kick back and relax and the place you catch up on the latest boxset of your favourite TV show. It's the part of the home that is most visible, to guests and to yourself, and so it should be a place you take pride in. People will judge the way you decorate it, even though they shouldn't, so it has to reflect your personality. If you want to learn how you can thread your personality into your home, take note of these seven steps:
Colours: Colour choices for your home say a lot about you as a person. If your favourite colour is deep, seductive red, then it's likely you're a romantic, warm person. Or a serial killer! If you are someone who loves to wear bright colours, then a bright home is going to reflect that. Darker colour choices can show you to be very edgy, very forward and far more extrovert than most. Light colours should be used by those who are more sophisticated, love their space and are confident in their ability to avoid drink spillage.
Furniture: Choosing your furniture is always an exciting part of decorating a home, but be smart about it. When you shop for your living room, think about what your furniture says about you. Luxury Duresta sofas and chairs will tell people you love having guests over and love to dip your toe in a little luxury. A comfortable room means you are a person who values comfort and cosiness. If you prefer furniture that looks very modern and very posh, with sharper edges, you may be the sort of person who still wears their high heels in the house. It's all about finding a great balance.
Rugs: Most people don't think about the importance of their flooring, but they're just as important as the colours you put on the walls or the furniture you fill the house with. Old, shaggy carpets can reflect your personality and make you seem like the old and shaggy one! If you walk into a house and the carpet is full of crumbs and stains, it says a lot about the people who live there and their lack of hygiene. Go bright and bold with your rugs, depending on the room they're for, and your guests will know that you are a bright and bold person who is proud of their house!
Your personality can be shone through every corner of your house. So, take the time to make sure it does!
April 21, 2017
Shaving. It's one of those things we all have to do (unless of course, you're going for that hipster look). But no matter how carefully we try to shave, our bodies fight back, reminding us that, deep down, we're mammals and we're hairy.
So what can be done? How can we finally stop wasting money on razors, only for them to leave us with itchy, cut and bumpy skin? Take a look at some of these ideas.
Ditch Your Old Razor
Although you might be on a budget, one area where you really can't cut back is on razors. Using the same disposable razor for month after month will irritate your skin and leave you with a higher probability of nicks. The problem with continuously reusing disposable razors has to do with the way that your hair, shaving foam and moisture affect the blades. Over time, the blades dull and become cracked on the microscopic level. Instead of being smooth and providing a clean cut, some parts of the blade become blunted, causing the blade to tug at hair, rather than sweep right through it.
Rather than have your face bleed for hours each time you shave, consider upping your shaving budget. Sites like http://www.manlymatters.net/ have lots of information on the best types of razors to choose, depending on your situation. Updating your shaving utensils might cost you a bit of money, but it won't break the bank.
Exfoliate First
Why bother exfoliating? Well, the main reason is that it helps to get rid of all the dead skin cells on the surface of your skin that could clog up the razor blade. Get rid of the dead skin cells first. This will help the razor to pass closer to the surface of the skin and help prevent the dreaded razor burn.
Rinse The Blade Between Strokes
Every time you pull the razor blade over your skin, it collects a mishmash of dead skin cells, shaving foam, hairs, and pus. Not nice. This buildup doesn't happen gradually either – it's super fast. This is why it is a good idea to rinse the razor blade between strokes, reducing your chances of getting razor burn and having to put liters of ointment on your skin afterward to soothe it.
You Press Too Hard
Another common problem when shaving is pressing too hard according to https://www.bustle.com/. Using more pressure doesn't actually help you shave closer. In fact, all it tends to do is cause more dead skin cells to accumulate between the blades, leading to a harsher shave overall. Razors don't need to be pressed into the skin to work. Instead, they should just glide over the top of it with relatively little effort. If you've got to really tug to remove the hairs, then there's a good chance that you need a new blade.
You Dry Shave
Do you ever shave, get ready for work, and then realize you missed a bit? It's seriously annoying, isn't it? It is imperative, however, that you resist the urge to "dry shave" otherwise you risk irritation and a red face for the rest of the day.
April 12, 2017
If your six pack has turned into a keg as the years have gone by, and you want to do something about it, you could be forgiven for thinking that you'll have to give up everything you love and out yourself on a hardcore exercise regimen, but that really isn't the case. There are many small changes you can make that will ensure that, in the fight of Man v Flab, man will come out victorious.
Here are several small changes you can make that will, in the end, help you to lose those excess pounds and achieve a better standard of health:
Set a Goal
It might sound like a bit of a cliché, but having a clear, realistic goal in place really can help to spur you on and motivate you to stick to your new workout regime.
Drink Tea
Researchers have found a link between drinking tea and having a lower BMI level. It has to be really green black or white tea though – herbal infusions will not have the same effect.
Cut the Carbs
Cutting down on the amount of carbs you eat is likely to be one of the most effective things you will ever do to get your weight under control. You don't have to remove them completely (unless you want to) but just halving the amount you currently eat will work wonders!
Say No to Soda
You know what soda is? Empty calories. When you drink a soda, does it really diminish your thirst? Probably not. It certainly won't fill you up or give you any key nutrients either. All soda will do is make you fat. Ditch it, and you could easily lose 10 pounds without doing anything else!
Try a Testosterone Replacement Supplement
Low testosterone levels if one of the key things that will leave you with a flabby stomach area, so by boosting your T levels with a testosterone replacement product, you could quickly lose weight as your body starts to build muscle mass more effectively. It'll also give you an energy boost, which will make working out easier, too!
Lift Weights
When you lift weights, you build more muscle, and the more muscle you have, the more calories you will burn. You'll also look more toned when you reach your target weight too.
Increase Your Protein Intake
Lifting weights and eating more protein go hand in hand. Your body needs lots of protein to increase your metabolism and build muscle. Make at least half your plate protein, and you'll be well on your way to winning the battle.
Cycle to Work
Instead of taking the commuter train or car to and from work each day, invest in a bicycle. Cycling is a great activity, and if you use your bike to commute, and you could burn thousands of extra calories a week. It's more pleasant than being squashed in a confined space fighting for a seat, too.
Start with Soup
If you have a small cup of soup before your meal, it will fill you up for a few calories, so that you are less likely to gorge on the main course or have dessert.
Being the victor in the battle between Man v. Food might not be easy, but as you can see, it really doesn't have to be hard either!
April 10, 2017
Upon viewing my favorite fashion site, hypebeast, i just learned that the brand called MADNESS has releases its lookbook for 2017 spring summer collection. I must to admit that they has always he quirky and dope collection ever and there kind of pieces are the one you can be wear off anywhere and have yourself comfortable wearing them hence no doubt why mostly folks are getting crazed whenever they releases their new set of collection.
These styling they've made are really speaks to my style hence I think am getting myself some from this collection once they are available in the market but for the meantime we can always check MADNESS's main website for the sneak peek pieces on what we gonna expect from them for this spring and summer season. You can also see some update for this collection over their site hence you better hang in there often for updates.
April 10, 2017
Who is fond of Illuminati? LOL I know most you are been aware of already that people said Kayne and the whole clan are been part or member of the said world demonic organization, Illuminati. Hence, we keep on seeing signs to the singer that he does really into the organization, right? one of the proofs that people says was his collection of jewelry, the past released and even this present, I must to admit it does has a sign in it but we better not to conclude if it's was a true or not because we might get in trouble for forcing the not so fact details about it. If you even like his jewelry and wanting to wear it off and pull it off on your outfit you can go ahead and have it yourself and if you still doubt it and might gonna effect your religious values you can still choose not to get it, simple as that right?
But for those interested the YEEZY Jewelry Collection is now ready and out in the market to avail. You can check yeezsuply website for details and pricing of it and I bet it's worth your 2 iphones in a single purchased made in any of his new jewelry collection.
March 27, 2017
A lot of people think that beauty products are just for women, but these days it's becoming more common for men to use them. The range available might not be the same as in women's products and you might not know which ones are best. Here are a few of the top products for men on the market right now.
Pomade
Pomade is one of the oldest men's products and there are countless different versions of it out there. It is a hair styling product that gives good hold for styles but maintains a wet look. You need to be careful when choosing Pomades because the name is used fairly liberally these days and some of the products labelled with it will not give you the same effect. This one by Blind Barber is one of the best ones on the market at the moment.
Khiels Facial Fuel
Khiels are one of the original and most popular male skin care brands. They offer a wide range of natural skin care for men and their facial fuel is just as powerful as the name suggests. It's a great energizing scrub that will leave your skin feeling fresh and vibrant. Again, this is a fairly expensive one but the quality of the product means you only need a small amount per use and it is definitely worth the investment.
Jack Black Intense Therapy Lip Balm
So, you've taken care of your skin and your hair, but you might still be suffering from dry and chapped lips. Most women's lip balms come with a fruity flavour of some kind and some even have glitter in them so you might want to stay away from these. A good alternative for men is Jack Black Intense Therapy Lip Balm. It is made of natural ingredients, packed with antioxidants and moisturisers, and has a subtle mint flavouring.
L:A Bruket
Beards are back in a big way at the moment so it is likely that beard care may be part of your daily cleansing regime. A small bit of stubble will probably be fine without treatment but if you have a longer beard, using oils on it is a must. One of the best ones on the market is No. 147 Beard Protector by L:A Bruket. It is packed full of natural oils to soften the hair and make styling easier. It also contains a good amount of Vitamin E to promote healthy growth.
L'Occitane Cade Shaving Cream
If you don't have a beard, then you probably spend most of your morning covered in shaving foam. A lot of the supermarket brands can have a bit of a cheap smell and can sometimes irritate the skin. There are some more expensive alternatives out there but the improvement is definitely worth the price difference. One of the most popular is L'Occitane Cade Shaving Cream. It has a a great smoky smell and the shea butter in it helps get a good lather as well as softening your skin.
Hopefully these suggestions will help you get started on your daily routine and get the look you want.