If you're a fan of interior design, you probably spend hours looking at soft furnishings and paint palettes. This is fine, but what about the exterior of your home? We all want to arrive home and feel happy with the sight that greets us. If you've devoted all your energy and attention to the interiors, it's time to do a little sprucing. You don't need to go crazy or spend a small fortune. These handy hints will have your home looking great inside and out before you know it.
Front lawn maintenance
Nothing spells neglect like knee-high grass and overgrown planters in your front garden. When you pull up outside, you don't want to be greeted by weeds. Gardening isn't everyone's favourite hobby. But a small amount of effort goes a long way. Take advantage of a dry day, and mow the lawn. Do some weeding, and clear planters and beds ready for new plants and flowers. Trim hedges and the edges of the lawn. After a single afternoon, your garden will look tip-top.
Image credit https://pixabay.com/en/family-home-residence-contemporary-475883/
Paintwork
Have you got chipped paint on your window frames or splashes on the driveway from last year's painting endeavours? If so, it's time to refresh the paintwork and look into removing paint spill. You'll be amazed at the difference simple jobs can make. Don't forget to give the front door and any painted pipes or fittings a coat of paint while you've got the brush out. If you're looking to change the aesthetic, going for a different shade may be an option. You could whitewash solid wood window frames, for example.
Image from https://pixabay.com/en/house-home-residence-real-estate-961401/
Personalising your space
Do you want your house to stand out from the crowd? If so, why not take steps to personalise the exterior? Design a new plaque with the house name or number. Or add a bespoke door mat to the porch.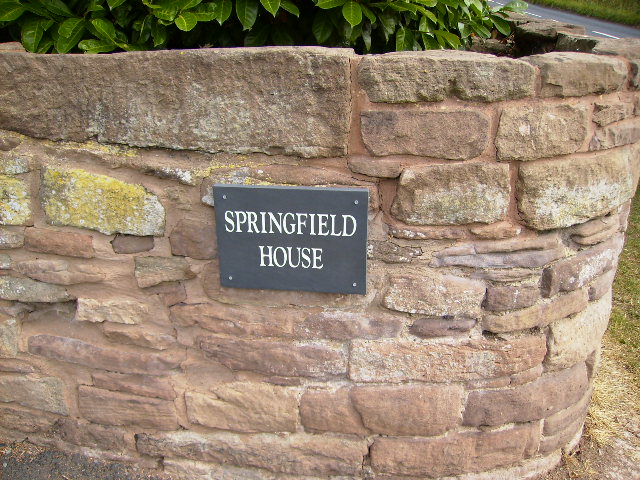 Image via http://www.geograph.org.uk/photo/219411
Adding interest
Are things looking a little bland outside? Does your home look the same as every other house on the street? If so, it's time to add interest. There are so many ways you can do this. You could put up a pretty picket fence or add some hanging baskets to the porch. You could investigate fitting shutters or adorn your driveway with potted trees. If you're struggling for inspiration, take a look at blogs and social media sites. It's also a great idea to peruse some magazines.
Image from https://pixabay.com/en/house-white-suburb-exterior-1022415/
Does your home look phenomenal on the inside but a little drab on the outside? Have you neglected the garden or put off paint jobs? If so, it's time to put your talents and creative skills into action. You don't need to make wholesale changes. Often, simple alterations or additions can make all the difference. There's nothing better than pulling up outside and feeling lucky to live in such a beautiful home. Hopefully, these handy hints have inspired you to treat your home's exterior to some TLC. You'll be amazed at what a couple of hours of graft, and some creative thinking can do!