November 28, 2016
If you're a fan of interior design, you probably spend hours looking at soft furnishings and paint palettes. This is fine, but what about the exterior of your home? We all want to arrive home and feel happy with the sight that greets us. If you've devoted all your energy and attention to the interiors, it's time to do a little sprucing. You don't need to go crazy or spend a small fortune. These handy hints will have your home looking great inside and out before you know it.
Front lawn maintenance
Nothing spells neglect like knee-high grass and overgrown planters in your front garden. When you pull up outside, you don't want to be greeted by weeds. Gardening isn't everyone's favourite hobby. But a small amount of effort goes a long way. Take advantage of a dry day, and mow the lawn. Do some weeding, and clear planters and beds ready for new plants and flowers. Trim hedges and the edges of the lawn. After a single afternoon, your garden will look tip-top.
Image credit https://pixabay.com/en/family-home-residence-contemporary-475883/
Paintwork
Have you got chipped paint on your window frames or splashes on the driveway from last year's painting endeavours? If so, it's time to refresh the paintwork and look into removing paint spill. You'll be amazed at the difference simple jobs can make. Don't forget to give the front door and any painted pipes or fittings a coat of paint while you've got the brush out. If you're looking to change the aesthetic, going for a different shade may be an option. You could whitewash solid wood window frames, for example.
Image from https://pixabay.com/en/house-home-residence-real-estate-961401/
Personalising your space
Do you want your house to stand out from the crowd? If so, why not take steps to personalise the exterior? Design a new plaque with the house name or number. Or add a bespoke door mat to the porch.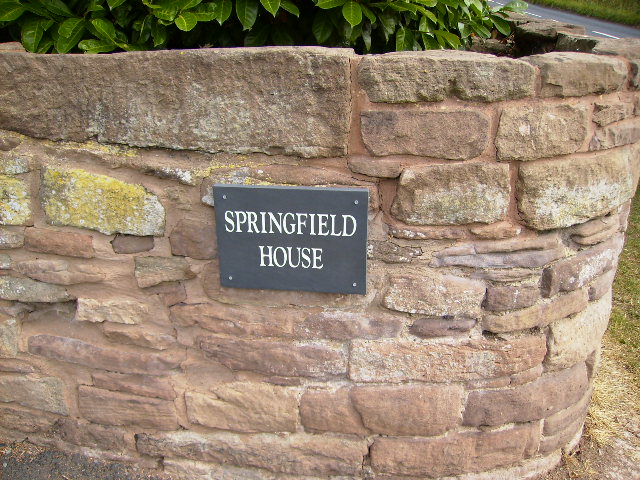 Image via http://www.geograph.org.uk/photo/219411
Adding interest
Are things looking a little bland outside? Does your home look the same as every other house on the street? If so, it's time to add interest. There are so many ways you can do this. You could put up a pretty picket fence or add some hanging baskets to the porch. You could investigate fitting shutters or adorn your driveway with potted trees. If you're struggling for inspiration, take a look at blogs and social media sites. It's also a great idea to peruse some magazines.
Image from https://pixabay.com/en/house-white-suburb-exterior-1022415/
Does your home look phenomenal on the inside but a little drab on the outside? Have you neglected the garden or put off paint jobs? If so, it's time to put your talents and creative skills into action. You don't need to make wholesale changes. Often, simple alterations or additions can make all the difference. There's nothing better than pulling up outside and feeling lucky to live in such a beautiful home. Hopefully, these handy hints have inspired you to treat your home's exterior to some TLC. You'll be amazed at what a couple of hours of graft, and some creative thinking can do!
November 28, 2016
The house is at the heart of our lives. It is where our children grow up, where we sit together with the family around a yummy dinner, and where we go to rest after a long day. But before you can call your house a home it has to be more than just a roof over your head. It needs to make you feel safe and happy. Here are some tips to help you turn your house into a home for you and your family.
Image of a house from Flickr,
Give it some personality
Your house needs to be an extension of who you are and what you love if you want to feel at home in it. This can be done with simple and effective touches, such as adding the posters of some of your favorite films in the lounge, or maybe the souvenirs you brought back from your latest holiday. Or why not add some colors on the walls? So don't be shy: Express yourself.
Keep it warm
There is nothing worse than sitting inside in winter and being cold. First of all, with old single glazing windows being the biggest cause of warmth loss, you need to check those are tight. Now ask yourself what a cozy winter day at home means. Are you thinking of lying down by the fire with a cup of cocoa? That is because there is more to warmth than the temperature. The fireplace stands for hot; the cocoa is a childhood's comfort, and the red and orange shades of the flames are a boost of energy. It is about fighting the winter gloominess with warming touches in your decor.
Ensure your safety at all times
We live in times of uncertainty where it is important to protect the things you love. An alarm system keeps your house monitored at all times and guarantees a backup plan if anything happens. There are plenty of smart devices and installations to choose from on the market, so you might want to read objective reviews such as the Ackerman security system pros and cons for example. Remember that this is not only the house these security systems are keeping safe but your family too.
Keep it trendy
It's a no-brainer. Your wardrobe changes with seasonal trends. Why should your home decor always stay the same? Furniture gets old, wall paints fade, etc. If you want your house to look as lively as ever, you need to keep to follow the current trends in decor. Don't worry: There is no need to swap all your interior for something new every year! But bringing in a few fresh touches from time to time is what helps your home to grow with you.
Give it a heart
Last but not least: A home is a place that is alive, so make sure that you let Life in. Throw a barbecue party, organize a memorable Christmas dinner, invite your neighbours for coffee and cake, and much more. The choice is all yours! Just remember to keep your door open to fill your home with joy.
Image via Google – URL: https://goo.gl/images/N4RLJa  
November 25, 2016
We all think that the memories of our wedding will last forever. They'll be just as clear as and rosy ten years later as the day we said I do. Unfortunately, this isn't always true. The romance fades and what you're left with is a relationship without the memory of how it used to be. Don't make that mistake and instead ensure that your wedding day is always alive and well in your heart and mind.
It All Starts With The Proposal
If you think about your wedding for a moment, you'll realise that it actually begins when your true love proposes. He'll get down on one knee and all of a sudden a brand new part of your life has begun. It's the turning point, the next chapter and you want to remember that moment, the beginning. Well, you can as long as you make sure that when you do propose, you've hired a photographer to capture the moment. People often don't consider the possibility of hiring a photographer for the proposal. It's quite difficult to arrange but not impossible. For instance, you can propose at a restaurant and hire a photographer to sit at the next table. Once you start proposing, they'll be ready to take some photos that will last forever.
Personalise The Rings
You might know that when you get mad at your partner after marriage, sometimes you take off your wedding ring. You do this as a symbol that you have lost faith in the marriage or the vows that you exchanged during the ceremony. Wouldn't it be wonderful if that ring held a memory of why you were married? Well, it can because you can get an engraving on the inside. This engraving can say absolutely anything. Although we suggest that you think of a special message that means something to both of you. Then, even when anger seems to win, you'll look back and remember all that is right.
Photography On The Day
Of course, if you want to remember your wedding day you need the best photographer right there. He or she will then be able to take perfect snaps of moments in time. You'll be able to have a shot to hold of you saying I do, walking down the aisle and being whisked away for your honeymoon. If you look at a company like Brightmoon, you can make sure a professional photographer is a special guest at your wedding.
Make A Digital Scrapbook
When you have all the photos of your proposal and the wedding, you can put it in a digital scrap book. This is the modern way of preserving those special memories. A digital scrapbook can be sent wirelessly to virtual photo frames. By doing this, you can play your photos in a slideshow in different areas of your home. That way, you'll always remember the special day, even after you've been married for years.
We hope you enjoy using some of these possibilities to make memories of your wedding that you'll never forget.
November 21, 2016
People these days loves all things to be instant as the generation and technology are quite advance than before. That is why most of the brands especially to the tech field are continuously trying to create some sort of products that can give out conveniently to all in a very efficient and fast way.. And true enough, because a lot of new things are constantly coming out in the market today that can make the way of living at ease.
And one of the best company I knew that can give you this convenience and at the same with benefits was this www.ecooe.com where all their items are these handy and easy to use and at the same time a eco-friendly ones, which means all the items are perfectly to the health conscious fellas and it does benefit your whole humanity. For further details about this, you can heads over to the link given for your to see on how awesome this brand is..
As for their items. I'm liking to have this Ecooe stainless steel French Press, a coffee maker pitcher, which has a double wall French Press and built-in filter in it that utilizes the sodium of the water you uses and gets its PH level in peak, which really a beneficial to our body! especially to the immune system? in some sorts, yess! as it may vary on the high of the PH level inside the body –  nope! this just how I understand it though, please refrain this phrase to be your preference regarding this matter as I am not that sure though about it. But to make sure you can consult google for further explanation. Because I dont play any brainy here but more and more PH level is really important to a human's health..
November 21, 2016
Ever lived in a home that just felt a bit – well – cramped? If you're naturally drawn to the great outdoors and love the feeling of open space, you may find that you regard your home as more of a trap than a relaxing place to live in. Of course, many people love enclosed, cosy homes – some people enjoy that kind of security. But if you've got a penchant for nature and all things wild, you might want to make some changes to your home. Having a property that's more open to nature can actually benefit you and your family in more ways than one. Read on to find out how you can design your dream home that brings you at one with the great outdoors.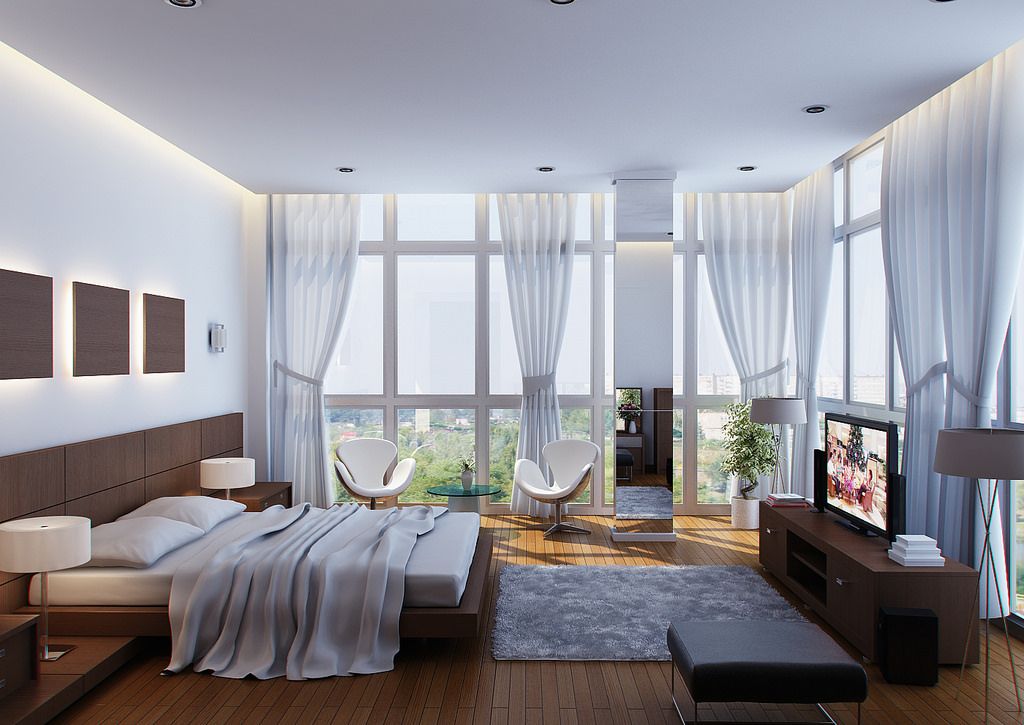 Huge windows
Humans need a lot of vitamin D, in order to encourage calcium production and strong bones. Vitamin D deficiencies can lead to a whole host of health problems including joint pain, rickets (in young children) and even depression. A lot of people take supplements, but the best way to up your vitamin D levels is simply to spend more time in the sunshine. Of course, there are some days where this isn't possible. We may have a busy day locked in our office, or we may be cleaning and running around after the kids. But by allowing as much sunlight into your property as possible, you can be sure that you and you family are being exposed to vitamin D. Plus, it generally makes your home look brighter and more welcoming, which can only be a good thing! Floor to ceiling windows can also look very chic, so speak to some award winning architects about installing them on your property.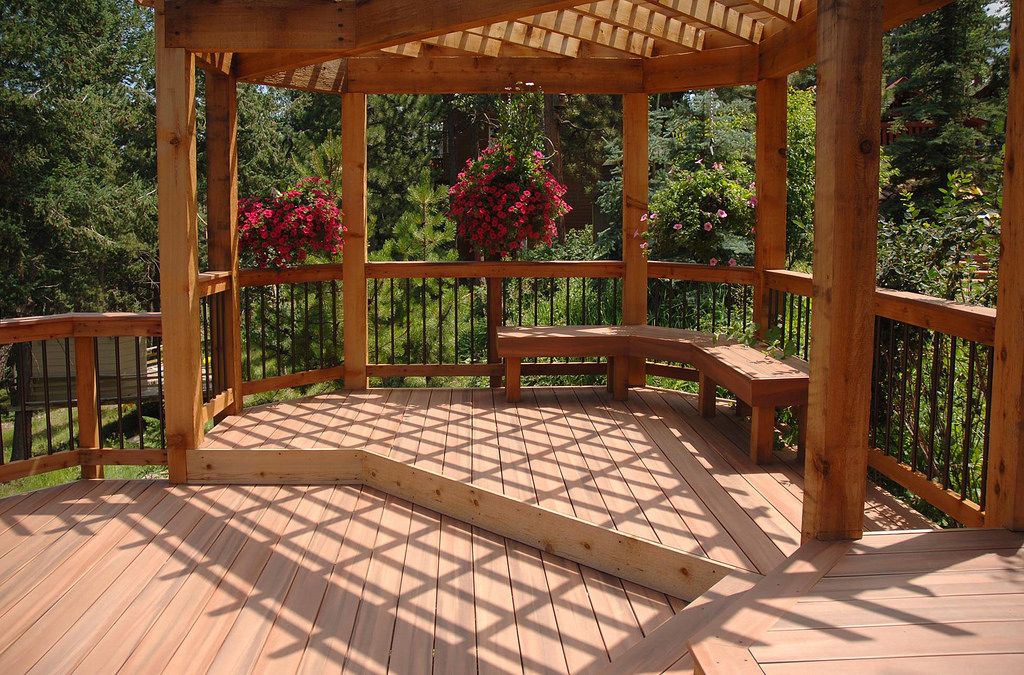 A patio or decking
Is there any better feeling than sitting outside in your garden with a glass of wine in hand, watching your children play together after a long day? Probably not! Having a designated patio or decking area doesn't only look stylish in your garden, it also means you can sit outside whenever you want. Having waterproof outdoor furniture means that it can be left outside whatever the weather, and having a solid floor means your chairs won't sink into the ground the second it rains. If you're into entertaining, outdoor seating areas can also be great for hosting al fresco dinner parties or summer BBQs.
Stunning views
What do you see when you look out of your home's windows? If it's anything but inspiring, you may feel it's time for a change. One of the most common problems people have in their homes is the feeling of being overlooked – either by large trees or by other properties. This can be a tricky thing to negotiate, but if a neighbour's tree is blocking the view and light from your home, ask calmly if they can trim it. If your property is already overlooked by another house, unfortunately, there isn't much you can do about that. But if you know that a neighbour is planning an extension that will encroach on your own home, you are well within your rights to file an objection.
November 9, 2016
On your wedding entourage not only yourself as bride is the one important but of course the dress that your mum would wear. Because these were what people would like to see more or they really looking forward on what you as bride and your mum would wear in this once in the lifetime experience hence you should consider having your mum a dress which can really turn a head like what your gown supposed to be.
A-Line/Princess V-neck Knee-Length Mother of the Bride Dress With Ruffle Beading – NZD $ 213.89
Actually, there are a lot of good gowns to pick over the internet as much in your fave mortar stores when it comes to wedding dresses. But if you want my opinion then I'll probably suggest you to take a look on this shop called http://www.styledress.co.nz/ where all the lovely gowns for the whole wedding entourage where listed and selling over in a very reasonable prices, which you couldn't imagine about, really! hence I suggest you to take it a look yourself now and see what's Mother of the Bride Dresses NZ for your mum based on her own personality. And if happened you dont have any idea in this, no worries then, because the shop has a lot of talented people from the industry who can really helped you out to choose only the best for you and your mum just dont hesitate to hit them an email or put them in line for that matter.
For your mum, I really suggest to have her an classy type dresses like what are you seeing on the top photo. Because these dresses were ones in trend and a lot of English people are into this as it gives this classy feels to a mum who wears it well. Go check it and have it now to your shopping basket before it gets sold out!
November 5, 2016
Our smartphones have become the most vital technology of our lives. This makes it even more frustrating when their performance is lagging. Here are some steps you can take to help alleviate the issue.
Do you just have too much going on at once?
Most of the time, phones get a bit slow because they're overwhelmed. Check your task manager and see how many apps you have running. Some you thought you'd closed may actually be still running. This is generally all you need to do; downloadable task killers are usually unnecessary and even dangerous. You may also want to reduce the amount of widgets you have on your home screen.
Clearing some memory
Check your data storage status You may find that you don't have as much space as you thought, which can lead to severe performance issues. Deleting things using your phone UI often doesn't actually delete things. Use the data storage management to ensure that things are deleted once and for all! Oh, and consider moving those photos and videos onto your computer!
Leaving it off for a while
Most of us have our phones on all day. Even when we're supposed to have them off, we've usually only put them on silent. And modern phones are supposed to be quite resilient in the face of such constant use. Restarting your phone can be an effective way of speeding it back up. But it might be worth turning your phone off for a while. Leave it off for an hour or so while you go do something else. Like, I dunno, read a book or something.
Taking it to an expert
It's possible that the problem you have won't be solved using any of the above techniques. In fact, it may be so slow that it's almost unusable at times. It may even crash sometimes. If this is the case, you should probably get an expert to look at it. Speak to professionals who specialize in fixing mobile phones. They may be able to advise you on what action you should take even if they think it doesn't need a full-on repair.
Dealing with overheating
Phones can become slow because they're overheating. Overheating would seem to be the result of strained memory. But if you've still got overheating problems, then you should take these steps as soon as possible. Again, switching it off for a while is recommended. But you should also ensure that it's out of your pocket, too. Some people like it put their phones in the fridge for a couple of minutes, though this really only temporarily cools the system down!
How long have you had it?
Phones aren't made to last. You may think that modern phones are so powerful that they're probably going to last a long time. But that's not how they're built. Modern phones are purposefully manufactured so that they lose functionality within a year or so of ownership. This ensures that you think about getting the next model by the time your contract expires. It may be worth getting a new phone if this one can't be fixed.
November 4, 2016
If your bedroom isn't a relaxing and calming space, there's a problem. Your bedroom should be the ultimate sleep sanctuary. When you step into the room, you should instantly feel calm and soothed. If your bedroom doesn't make you feel that way, then it's time to change up the space and transform it. After all, life is crazy, so we need every minute of beauty sleep we can get. At least, I know I do – parenthood is hard work! So, with that in mind, below are some simple ideas for making your bedroom more of a sleep sanctuary.
The colour scheme
What colour is your bedroom now? If it's a nice, neutral colour, like cream, beige or grey, it can stay that colour. However, if it's decorated in bright, bold colours, it needs to be changed. No matter how much of a fan you are of bright colours, they're not suitable for your bedroom. You see, bright colours encourage the mind to stay active, which isn't what you want when you're going to sleep. That's why neutral decor is best for a bedroom. If you want to add colour to your room, a great option is to opt to decorate in pastel hues. These are pretty, stylish, and won't impact your sleep – or ability to fall asleep. (Pinterest has some fantastic pastel decorating ideas, if you're in need of some inspiration.)
Your bedding
Let's talk bedding. I don't know about you, but if my bedding isn't just right, I struggle to fall asleep. For your sheets and bed linen, opt for items that are made from 100 percent cotton, and have a high thread count. The higher the thread count, the better the quality. Synthetic materials might be cheaper, but they're nowhere near as comfortable and are more likely to cause you to overheat while in bed. So, it's best to pay a little more for higher quality bedding. As for your mattress, if you've had it for over five years, it's a good idea to replace it. After a few years, mattresses lose their quality and can become uncomfortable. If you're not able to replace it, a mattress topper could be a good option – there are some fantastic designs available. Oh, and if you're pillows are old, don't forget to replace them. To get a good night's sleep, it's crucial to have comfortable pillows to lay your head on. Such as bounce back pillows or feather pillows, for instance.
The lighting
What about the lighting? To be an ideal sleep space, your bedroom needs to have the perfect lighting. This means hanging blackout curtains to block out unwanted light. It also means being choosy about the lights that you choose to have in your room. If you prefer to use an overhead light to a lamp, consider installing a dimmer switch. This will allow you to dim the lights to give your room a relaxing glow. Or, if you're not able to do this, what about dotting strings of fairy lights around? These give off a lovely glow.
To ensure that you are able to get a good night's sleep every night, take note of the ideas above and turn your bedroom into a sleep sanctuary. Oh, and if you still struggle to sleep, dotting some lavender on your pillow should help to send you off.