October 28, 2014
Another online company had contacted me for their online campaign to be up on one of my blog and of course, It is my pleasure to help them and get their campaign done in the timely matter. They've sent me their details about the campaign and right after I posted it up and gained quite good traffic for it they too generous to sent me over these tees and G-shock watch on my way. At first, I really cant believe it since I am not expecting it at all. But I think they really liked on what I did for their campaign which I believed helps them a lot to built their online presence at times. Hence, Ive got all of these for free which I am really thankful for. 🙂
If you needed to buy anything pieces that are in trends. Just check over Eastdane.com because they did have all these great fashion finds from local brands to international brands for men's fashion. Also, they did have some finds for ladies too but it does houses to their another shop called ShopBop.com – were all the chic pieces were listed. They did have some MK bags, Mk Watches even undies from different brands, they got it all. They either caters some high-end pieces from top to bottoms – just check the shop for you to see on how great their shops were. Yes! because they aimed the most convenient shopping experience for each of their consumer that is why they'd built up their stores as one stop shop..
October 28, 2014
Being a blogger, there's really a lot of opportunities that may swayed in your way and most of it was these freebies or perks that these good companies are sending in for review or for just showing their good gesture to you as you been featured them out over your platforms. Yes! that's how this blogging works and I knew most of you are aware on this kind of opportunity too. Though there were some great ones that involved monetary in every work done you'd made for companies and yet this freebies can makes my heart's pounding more. Because I prefers free items more than anything.. lol
Recently, one online shop called zalora.com had contacted me for collaboration and of course I cant resists but to say yes since I really liked to have great fashion finds like this new balance kicks they'd sent out my way.. I think having an free items than monetary is still great deal because usual items that these companies are sending over are those great finds that most people are eager to have. Plus, if the company is generous enough, they can either includes some coupon codes to use for you to try the whole shopping experience from their online shop. Awesome right? that why I really enjoyed being a blogger because I can share whatever information I have even my ramblings and at the same time I am getting free stuff like this kicks here.. heheh
Alright, that's it for now and I hope you can visit zalora.com for your fashion and accessories. No worries, they did offer an free shipping in every at least 20 USD spent. Just check their site today for you to see on how awesome they are..
October 28, 2014
I am truly fortunate to have this awesome woody sunglasses for free from www.woodyglass.com, founded by Mr. Keaton from Texas. I simply liked this than to the other usual sunglasses which are made of metal or plastic made frames. Because woods are  pretty quirky and it does help your total outfit to stand out, in away, this is a great accentual to you as you really into fashion. Actually, Ive seen a lot of celebrities, both local and international, who're pulling off with this woody sunglasses and I think this is the most picked and look forward pieces today when it comes to accessories. Though winter season is fast approaching and yet having yourself with this kind is a must. Because this woody sunglasses can really get along in any winter outfit you'd trying to rock on, whatever it could be.
Woods are great materials to use in any fashion pieces except for dresses of course. Because we can find this material everywhere and it is the most cheapest one compering than those factory made ones. Hence, I really encourage you now to have yourself one of this from woodyglass.com because am telling you, this is worth to buy!
October 27, 2014
Things got no easy for me this past few days ago. Because Google made a move by placing this site into their spam section which I didn't expect at all. This blog is formerly names as " the Menswear and Lifestyle blog"  same as to my other site alexiq.com, though I admit that they were all the same to the blog title as well quite bit comparison on the contents and blog theme, but I really dont intent to make it that way since am working out my butt off to my alexiq.com too. Really! this is frustrating and I dont even know on how I may pleased google now to get this blog, tyngc.org, gone back up over the search engine. I think, rebanding is the best way to do but I am still quite hesitant that this matter will works out. but anyway, let me try it out and might Google will reconsider the blog again.
I've also decided to change my blog theme into this neat minimalist theme from etsy. Yes! Ive purchased it for about 25$ and I must say, for 25 usd this theme is quite reasonable than to the other available wp themes today online. Plus, I simply like the fonts uses to this theme it makes all the content readable and its appealing to the eyes. Alright, that is all for now and I'll make you updated once google responses already on my reconsider request. Thanks and please do check back often for more fashion news and updates that may surely gets your interests.
October 20, 2014
Every woman should have a little black dress in her closet because you can never go wrong with this classic clothing staple. It is so versatile that you can wear it at the office and then go to a party at night and you can do this by adding the appropriate accessories. If you do not want your little black dress to look plain and uninteresting, dress it up. But remember to not overdo it because if you do, it will lose its chicness.
Pair your little black dress with animal print staples like leopard print shoes. This will give you a sexy edge. A tailored jacket will look good on your little black dress. It will make the whole day to evening change totally easy, so much better than a pashmina and cardigan. Another thing that you could do is to wear polka dot tights. It does not matter if your black dress is sleek or frilly. Experiment with your look and be creative. Use bold statement accessories and sparkly, attention-getting bracelets and earrings. You can likewise wear lots of long necklaces that look fun and modern. Add a little drama to your little black dress by wearing a fake fur jacket paired with sexy red shoes. Other accessories that you can add to your dress are belt, scarf, and the right bag.
There are a couple other things that you should keep in mind about your little black dress. Those worn at daytime should not cling to the body and the length should drop just below
October 17, 2014
For sure there are lots of men and women who love wearing boots. Some even have a closet full of different types of boots like Chelsea, Chukka, Cowboy, and Motorcycle. We all know that shoes can make or break an outfit. An otherwise beautiful attire can look bad if you are not wearing the right shoes. Boots is one fashion staple that I know will not run out of style and will always look good.
It adds character and class to an otherwise boring attire. There are many different styles and make of boots. Some are made of suede, velvet, and silk while others are made of natural and artificial leather. There is definitely something that will fit your budget.
The first thing that you usually notice when buying a pair is how good it looks. However, you should also take note of how comfortable it fits and if it is really worth buying. If you like leather boots, you should know how to properly care for them since they are costly. Cleaning your boots to remove grime and dust and applying a quality leather conditioner are critical in helping preserve the leather in your boots. Know the proper care according to the type of leather.
Boots will always be in vogue whatever the season may be. Wedges and platform boots are still in style, the same goes with boots of various height. Different types of leather such as snake, crocodile, and lizard skin likewise look great. With regards to design, there are those with fancy prints like abstract, geometric, and animal prints. Buckles and straps are incorporated in some designs. Nowadays, designs are simpler but more chic. As with color, the usual black, brown, blue, gray, and tan are still okay along with metallic colors like gold, silver, and copper.
October 17, 2014
There are men and women who cannot seem to leave home without wearing sunglasses. No matter what your age, gender, sexual preference, and social status is, sunnies have become an important fashion accessory especially in tropical or sunny countries. But wearing one is more than just a fashion statement (although some people might say that this is their main reason for doing so). Sunglasses also protect our eyes from the harmful rays of the sun. Keep in mind that sun exposure may cause wrinkles, dark spots, discomfort, and even blindness.
However, we should not wear sunglasses just because they are the latest style or trend or because we find them really pretty. For your sunnies to look good on you, it should go well with the shape of your face. Not only that, it should fit perfectly so that you are comfortable. There is definitely a style or design for you whether the shape of your face is oval, round, heart, and square. For a woman who has an oval face, any type can be worn since this is the most versatile face shape. For those with round faces, rectangular glasses and retro styles work best. If you have a heart-shaped face, oversized frames and metal aviators will look great on you. Those with square faces, on the other hand, should wear sunglasses with round frames that somehow provide a soft balance to their angular features.
There are various types of sunglasses available to fit every person's personality and taste. It is also up to you if you like them to be slightly or heavily tinted. You can likewise buy clip on, polarized, and integrative sunglasses. They are all available at your convenience whether online or in a brick and mortar store. Probably the most important thing to keep in mind is to wear your sunnies with confidence all the time.
October 12, 2014
Who never say that fashion are for ladies only? fashion is universal that we lads can either rock on with it. Yes! on today's generation, we lads are into fashion as well like these girls often do. We used to roam at the mall's brands and pick those quirky pieces we found that we might pull off anytime soon. Actually, at the late 80's , if I am not mistaken, fashion are exclusively for girls because men that time are only ones who works harder and doesn't have time to wear luxurious finds that can make them to look dope. But today, as people are openly minded and as guys and women has the equality in society.Fashion is became prominent to everyone and each person are now trying themselves to create an unique statements that can make them stand out among the rest..
But I know most of the lads out there are not that knowledgeable regarding this men's fashion. Hence, let me help you a bit by putting this video up where you'll know some of the basic when it regards to men's fashion. And I may called it style tips for young men, It contains 9 style tips for you all..
Video Credit: Real Men Real Style via Youtube
Also, I think having an nicely pair of shoes is a must as you wanted yourself to be looking in trend. Because shoes are the main piece for the total men's outfit. It does carrying out the whole outfit as you treat yourself an great shoes in every outfit you'd trying to pull off. You may check out some online shopping stores for the list of shoes you may consider..
October 12, 2014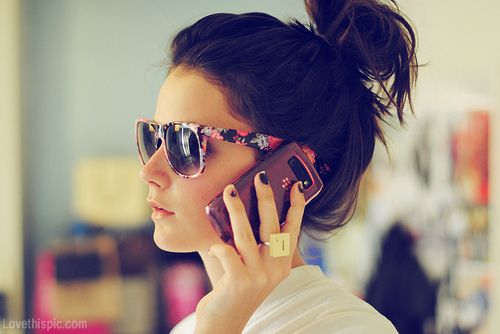 Girls are naturally vain, and they wanted themselves to be looking neat and beautiful most of the time. I think, that's their nature and that's how they work most of the time. I know most of you are also fascinating to those colorful stuff whether for your accessories or clothes, when it comes to fashion. But you know what? there's a new trend today for girls which can make you feel comfortable and trendy looking at the same time, and am preferring with this messy ponytail that is perfectly in any season. You may check out some video below for the tutorial that may works on you.
You may also noticed that most of the teenage celebrities today are really fond on this kind of hair styling, either those in oldies they can neither rock on this. Meaning, this messy ponytail are ones most consider when it comes to kind of hair style today. Hence, you better to learn it as well for you to be "IN" for today's fashion trend.
Ironically, this messy ponytail can even gives you an looking fresh and well maintained, and it can suits in any any outfits you;d trying to pull off. That is why I really encourage you to check out those videos on top for you to see on how great this messy ponytail is.. Okay, that will be all for now and I hope you'll keep on checking me here for more fashion updates and tips.
October 8, 2014
Presented by Ghurka
If you like shopping for leather goods such as bags, shoes, and wallets, it is only fitting that you examine them properly for you to know if they are really genuine before buying them. We all know how expensive genuine leather goods are, and this way we know we are getting our money's worth. If you are not a leather expert you might be at a loss when it comes to some terms. It is not required of you to know all the terms but at least have an understanding of what some of them mean. This would be beneficial for you when you shop at Ghurka.
We always hear calfskin and cowhide, the former being a thin leather made with the hide of a milk-fed cow and the latter being leather made from the skin of a grass-fed, full-grown cow. Another term is Moss Back which refers to the underside of leather with natural suede back intact. We also hear the term Patina, the natural color evolution of a piece of leather as a result of exposure to environmental elements like sun and rain and natural oils from the skin. Other leather words include collar pin, gusset, binding, raw edge, feathered edge construction, fused lining, harness stitch, heat stamp, Ghurka derby check, milled leather, chrome tanned leather, burnishing, and vegetable tanned leather.